Back To Our Services
Reliable Professional Care for the Hardware
Did you know that your electric garage door has over 300 parts? Our job is to ensure that each one is in top shape and works perfectly. For this, we run full inspection at the beginning of each garage door maintenance session and watch out for signs of wearing and damage. Rely on us to check the tracks for bending, the cables for fraying and cuts, the rollers for twisted stems and the springs for deformed coils. We will solve any issue which the inspection reveals quickly. If you have a bent track, we'll straighten it. In case of a greatly frayed cable or a severely damaged roller, our job will be to replace the component quickly. Count on us to test the spring system's tension too and to adjust it, if necessary. To ensure that all hardware parts will work smoothly and as quietly as possible until our next visit, we lubricate them with a product which meets all of the door manufacturer's requirements.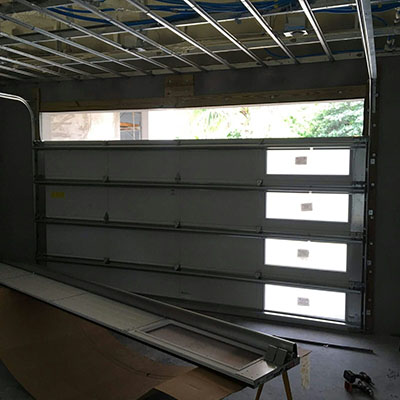 Garage Door Maintenance Covering the Opener System
Our work on the opener system always begins with a quick check and a set of tests. The first two tests are for the safety sensors. If the devices don't pass them, we will troubleshoot them or replace them, depending on what the cause of the problem is. The third test is for the opener's closing force. If it's too much, rely on us to reduce it. All door operators, including belt drive openers, require lubrication. Count on us to apply lubricant approved by your system's manufacturer to the places where the trolley touches the rail while moving. If you have a chain or screw drive opener, we'll lubricate the chain or rod using a technique which ensures that the entire drive is properly covered without any excess amount causing trouble.
Protecting and Restoring Garage Door Panels
Damage on the panels is not always clearly visible. If you have a steel door, there may be rust on the sides. If you have a wood unit, there may be areas which have begun to decay and have only slightly darker color than the rest of the door. Our maintenance services involve a full inspection of the panels for identifying even the slightest issue. Rely on us to fix any problems that we spot. In case of wood rotting, the solution is to carve out the damaged material and fill and seal the hole or holes. When the damage is extensive, we'll replace the affected panels. If your bottom seal is worn and no longer provides proper protection, count on us to install a new one.
If you want to hire us to take care of your electric door, contact us at Garage Door Repair Hingham now.
Back To Our Services